Center News
Read Our Latest Report: Challenges and Opportunities for Housing Development in the Inland Empire: Perspectives from the Community
In this report, in which we interviewed about 30 community leaders of the Inland Region, we discuss the region's housing strengths, weaknesses, and challenges. We additionally discuss the impacts of COVID-19 and recommendations for regional housing policy.
---
Read Our Latest Report: When the Home Becomes the Place of Education
In this report, we use Census data to examine the access to technological devices and internet for education, with a specific focus on the Riverside - San Bernardino MSA. We additionally examine the relationship between housing, education and the digital divide.
---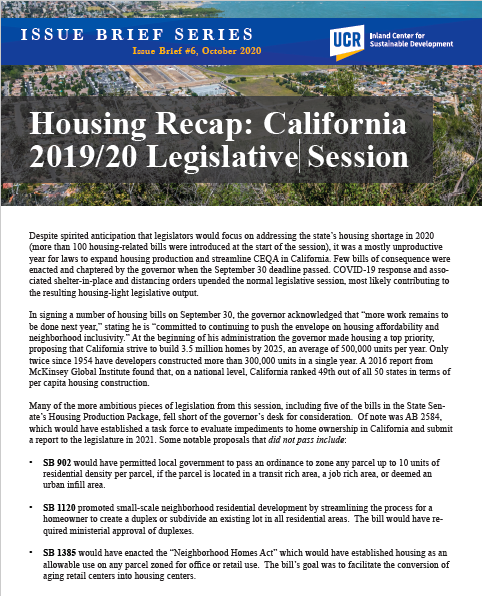 Read Our Latest Issue Brief: Housing Recap: California 2019/20 Legislative Session
In this Issue Brief, we discuss the housing bills proposed and chaptered by the California State Assembly and State Senate.
---
Housing in the News

How Remote Work will Affect California's Housing Crisis
By: Mat Levin; December 22, 2020
---

The Housing Market is Red Hot. How Long Can it Last?
By: Andrew Khouri; December 22, 2020
---
Coronavirus Lockdown Stifles Southern California Home Sales. But Prices Edge Up
By: Neal J. Leitereg; Date May 19, 2020
---